13jan - 28jan 131:00 amjan 28Flesh on Loop - Wong Keen's Solo ExhibitionWong Keen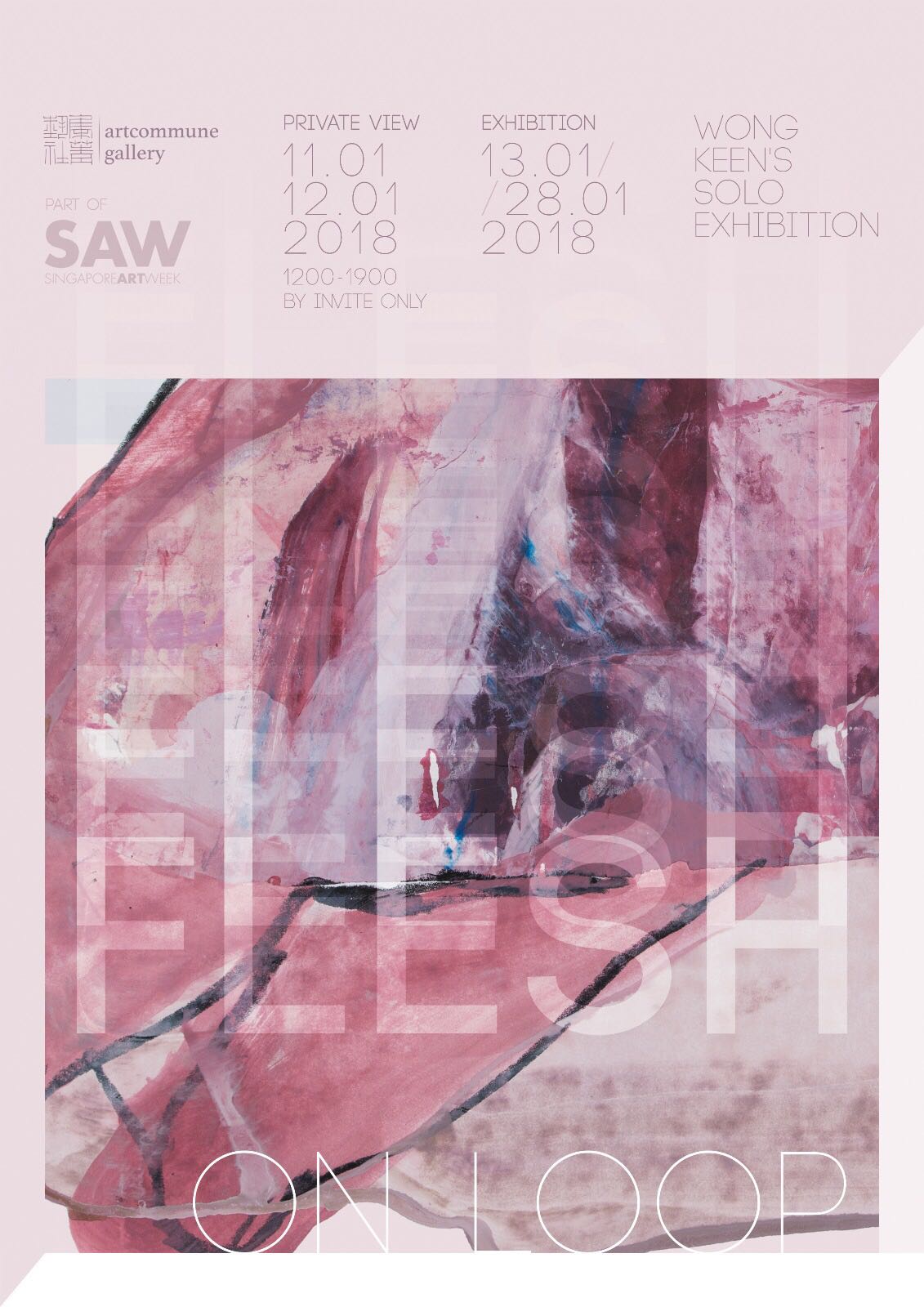 Event Details
artcommune is pleased to present Wong Keen's latest exhibition, Flesh on Loop. On showcase are 15 new mixed media paintings from the artist's latest series as well as selected esh-themed canvas works completed between the period of 2015 – 2017.
Block 231 Bian Street, #03-39, Bras Basah Complex, S180231
Working in a unique collage mode which uidly integrates Chinese ink wash with Western pictorial techniques, Wong Keen's latest series, 'still LIFE' extends his provocative discourse on man's ubiquitous consumption and commodi cation of esh; and the endless loop of desiring and grati cation that drives the economy of esh, from the cow on the butcher's table to the woman in the brothel.
Wong Keen's paintings in Flesh on Loop implores the audience to confront the "delicacy of esh"- liv- ing, dead and raw, its implications, and the never-ending cycle and replay of violence and death in the ecology of world's order/disorder. Several works play on the form of the burger – a familiar icon of modern consumption – and project a subtle phallic humour in their re ections of human esh as synonymous with raw or cooked animal meat sandwiched between burger buns, alluding to the un- savoury reality of esh (living beings) oppressed, abused and slaughtered in the process of being transformed into beguilingly enchanting human pleasures.
Striving not for formal likeness but gestural suggestion, the esh in Wong Keen's work is never just a vapid mass. It appears theatrically clotted and indistinct in some, and bloody and scrumptiously stacked in others; at times so wondrously "processed" with colours we forget the reason to see them as esh. Radically dislocated and alluringly surreal, what the gaze yields in the image is an alacrity mingled with a disquieting tension.
Wong Keen (b. 1942, Singapore) grew up in a Chinese literati environment and was an acclaimed teenage painter in the early Singapore art scene before leaving at 19 to study at the prestigious Art Stu- dents League of New York. He was the rst Singaporean and among the earliest of Chinese artists to venture into the ourished post-war American art scene – then the most avant-garde art center in the world.
Having spent over 50 years in America, Wong Keen's outstanding oeuvre, which encompasses oil, ink, acrylic and collage since the 1960s to the present, is a powerful embodiment of the elegant expressivity of Chinese ink wash aesthetics and the Western inventive approach toward form and colour. From series to series, whether venturing anew or revisiting familiar techniques and imagery, his relent- less pursuit of compositional innovation, together with the enigmatic quality of his language, has given rise to a unique body of work that de es traditions and categorisation. In 2007, the Singapore Art Museum celebrated Wong Keen's masterful repertoire with the solo exhibition, Wong Keen: A Singapore Abstract Expressionist. Wong Keen's work is held in a number of private and public collections, including The National Museum of China, Minnesota State University Art Museum, Albright Knox Art Gallery, New York, Singapore Art Museum, Resorts World Sentosa and The Fullerton Hotel.
Time

13 (Saturday) 1:00 am - 28 (Sunday) 1:00 am