Artist Name: Xu Hai Qing
Distinguished Painter in residence, by Youth Academy of Li Keran Academy of Painting
Xu was born in Weifang, Shandong province in 1981, graduated from Art College of Renmin University of China in 2006, Xu's teachers include master Lu Yushun & master Zhang Zhimin.
徐海庆,李可染画院青年画院特聘画家,1981年生于山东潍坊,2002年考取中国人民大学艺术学院,2006年毕业,获学士学位,师从卢禹舜,张志民。
Art Exhibitions:
2014, Hanyishenfei Chinese Painting Exhibition
2015 June, China-Malaysia Cultural Exchange Exhibition
2015 September, Painting and Calligraphy Art Exhibition, the 66th anniversary celebration of the founding of the People's Republic of China
2015, master Lu Yushun Teacher-student Exhibition
2016, Invitation Exhibition of Youth Academy of Li Keran Academy of Painting
2017, Chinese Painting Artist Invitation Exhibition of the two sides of the Taiwan Straits
2018, Wenmaichuanyin Chinese Painting Artist Invitation Exhibition
2018, Art China – Germany show
2018, Rong Bao Zhai Online – Xia Men International Exhibition

参展经历:
2014年参加瀚逸神飞水墨画交流展
2015年6月参加中马文化交流展
2015年9月参加庆祝建国66周年全国书画名家作品展
2015年"水墨乾坤"-卢禹舜师生展
2016年参加李可染画院青年画院首届作品邀请展
2017年首届海峡两岸中国画名家精品邀请展
2018年文脉传薪·中国画名家邀请展
2018年"艺术中国﹒德国展",地点:德国科隆市改撒画廊
2018年"荣宝斋在线﹒厦门国际会展中心中国画精品展
Artworks
The Ask Tao series     
Whether by expression in form or ink, Ask Tao series emphasize more on the inheritance of the Chinese traditional. In addition, an extension of Chinese traditional pen and ink. As a result, all gives these paintings with a new flavor of the era.
The Mind Wandering series 
On the basis of Chinese traditional pen and ink, techniques are applied more boldly and enjoyably ever, and more attention is paid to the use of "water", an important medium of Chinese painting, which makes visual impact much more intense. At the same time, more reference to the Western coloring techniques to the use of "color", skillfully integrated and manifests the paintings in both traditional and modern expression.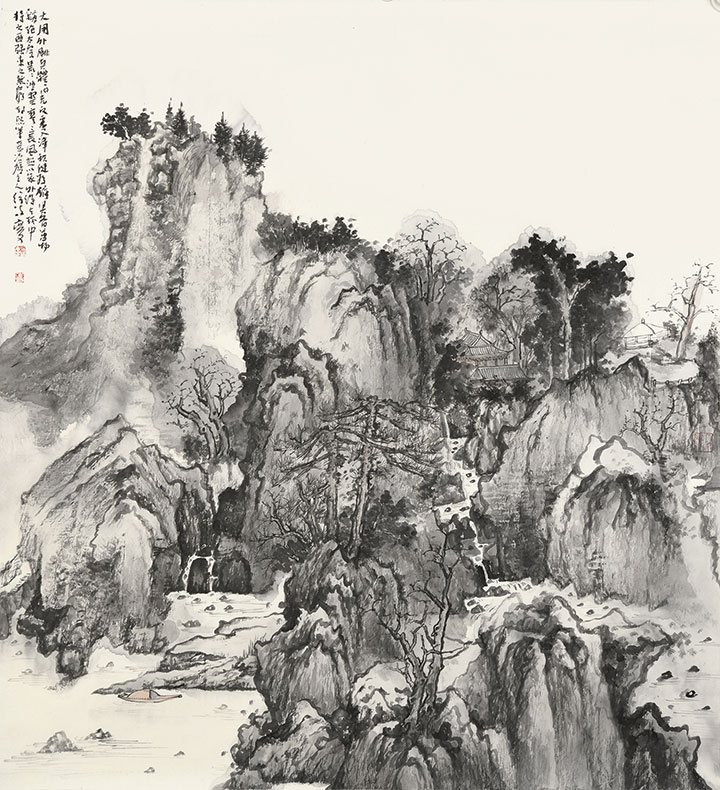 作品简介:
问道系列作品:
问道系列作品不论在形式上还是笔墨上,更着重于对传统的继承,也是一种对传统笔墨的延伸,最终赋予画面以新的时代气息。
神游系列作品:
神游系列作品在传统笔墨的基础上,将传统笔墨技法运用的更加大胆而畅快淋漓,更多的关注于中国画的一个重要介质"水"的运用,使得画面的视觉冲击力更加的强烈,同时,色彩的运用更多的借鉴于西方色彩的技法,巧妙融合到传统笔墨中,画面传统而又现代。