ABOUT ARTIST – REN JIAN HUI 任建辉
Mr. Ren Jianhui, born in ChenDu, China. He graduated from Art Academy of Tsinghua University. His teacher was the Art Master Mr. Wu Guanzhong. In 2013, he was selected as one of the "Top 60 Masters of International Contemporary artists" by Art critic team of the USA, Canada and Italy. He is the first Southeast Asian artist to get this award. Mr. Ren Jianhui used to teach in National University of Singapore. He is the president of Artists Society of Singapore since 2002 and a member of China Artists Association.
After exploring different styles and various media in his artistic career of more than two decades, he has finally settled with his current expressive method. With oil-painting, his emotions can be better expressed with a wider selection of colours and brushstrokes. Through semi-realism, Ren shows a new-found energy in modern oil-painting, which includes the combination of modernity and primitivism. And by his unique methods of processing the paint, he has mastered the optimum way to treat background and foreground separately on canvas, while producing a perfectly complementary effect.

ART AWARDS
2018 France Artist of the Year Award- Honorable Mention Award
2018 Best of international arts awards, United States (New York)
2017 Been invited to Beijing International Biennale, China
2016 Awarded with the "International Prize Leonardo Da Vinci – The Universal Artist"
2015 Invited to London Biennale and was awarded by the European Confederation of Art Critics
2015 Invited to participate in Florence Biennale and Barcelona Biennale
2014 Participated in the Exhibition of Overseas Chinese Painting & Calligraphy and was awarded with Distinction Prize
2014 Featured in "65 Overseas Chinese Models" Stamp Collection, Beijing, China
2013 Selected in the Top 60 Masters of Contemporary Art by ArtTour International Magazine in New York, judged by a panel of well-known art critics and commentators from USA, Canada and Italy. 5 pieces of oil on canvas were included in the art catalogue and video documentary
2009 Honourable Mention for Painting at Biennale of Chiaciano, Italy.
1995 Selected to the authoritative book, Famous Figures of the Contemporary Arts Circles in China, and awarded a Certificate of Honour.
1990 Awarded with the top prize in the 1st National Illustration Exhibition
With His Teacher Master Wu Guan Zhong
任建辉与老师吴冠中合影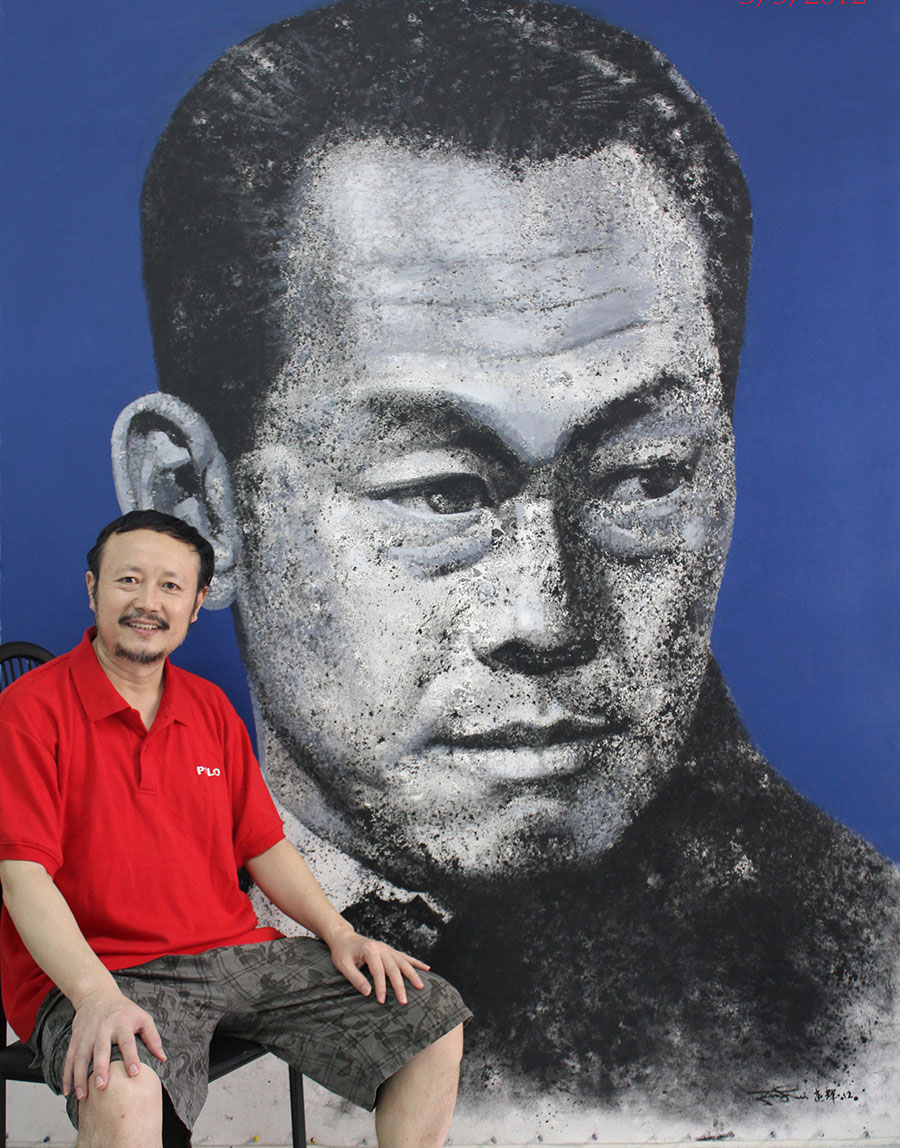 Mr Ren's Artwork: Lee Kuan Yew

Teaching at National University of Singapore